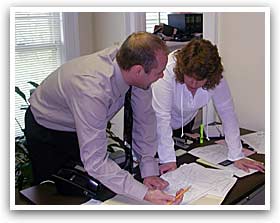 From Master Plans, to Strategic Plans, to Economic Development Strategies and Downtown Development Plans, Thoma is experienced in the community planning process. We help our customers to develop plans that guide them in implementing a realistic vision of what their community can be.
We at Thoma believe that planning should be process-driven and inclusive, action-oriented, and empowering. In all of our planning projects, our goal is to provide the customer with a road map to reach their goals.
We can assist customers in developing their project scope, defining goals and objectives, developing a study methodology completing a public participation process, identifying implementation strategies, and locating potential funding opportunities to bring their plans to fruition. Team Thoma's extensive experience in preparing successful grant applications and effectively implementing projects, ensures that the plans we help develop will be both feasible and implementable.
We understand that the time or resources to commit to the Comprehensive or Strategic Planning processes are not always available. Perhaps you already have a recent Comprehensive Plan, but simply need a more focused plan of action. This is why we also offer Community and Downtown Needs Assessment products. More details are provided on our Community Development Needs Assessment and Downtown Needs Assessment pages.